Window Cleaning Techniques
There are many different window cleaning techniques that can be learned. Since this site has been designed for the beginner, I will only be discussing easy-to-learn, general techniques. You can study the written information below or view easy to follow step by step Window Cleaning Videos.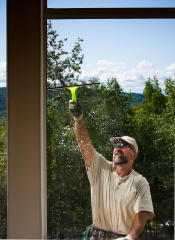 At this point you should have already studied up on all the correct window cleaning tools.
If you haven't, you may want to do that right now.
Learning how to clean windows is no different than learning anything else for the first time, practice, practice, and more practice. Give yourself some time to play around with what you learn from this site. Once you get going you will discover that it's not as difficult as it seems. If you're competitive, invite a friend to learn all the window cleaning secrets with you. Once you get good you can make a game of it. Make fun bets and race each other to the finish. Before you know it, all the windows in your house will be cleaned, and you'll realize you had fun doing it.
When you're first learning the art of window cleaning, you will encounter different challenges each time you clean a new window. Relax, if it doesn't turn out how you like, just re-wet the window and try again until you get it. If you run into recurring challenges you cannot overcome, refer back to this site. Go to the window cleaning troubleshooting guide where you might find suggestions that will solve the problem.
Once you have mastered the window cleaning techniques, you will soon realize the value in the skill. For one, your friends, family and neighbors will all be amazed that your windows look so crystal clear. You will be saving a bundle of money by cleaning your own windows, and if you so desire, it can be turned into a very profitable business opportunity. Everyone has windows and everyone I know loves to have clean windows. There will always be people out there that do not want to clean their own windows and will pay good money to have you do the work for them.
---
Tip: Start by practicing on easy to reach ground level windows. Work on the outside first, this way you can make all the mess you want and not worry about it.
---
The process for window cleaning techniques have been put into four easy to follow steps.
---
Step 1.
Scrubbing A Window
---
Step 2.
Window Scraping
---
Step 3.
Using A Squeegee
---
Step 4. Wiping the edges. (your finished)
---
Other Tips and Techniques
Using Chemicals
Extension Poles
CleaningOccupation-by-momandpops
is about unemployment statistics and
How to startup a cleaning Occupation.


Window Cleaning Techniques

How To Clean Windows